ZoborGlide 2015 › Results › Day 6 › 14.03.2015
Training Day 1 Day 2 Day 3 Day 4 Day 5 Day 6 Day 7 Overall Results
Racing Task | Final Results | Maximum Points: 649 | Day Factor = 1.0000
| | | | | | | | | | | |
| --- | --- | --- | --- | --- | --- | --- | --- | --- | --- | --- |
| # | | PILOT | CN | RN | PLANE | DISTANCE | TIME | SPEED | PEN | POINTS |
| 1 | | Helmut Kuenne | F9 | D-2318 | Nimbus4 | 300.92 km | 02:07:22 | 141.7 km/h | 0 | 649 |
| 2 | | Praznovsky Erik | EP | OM-1974 | ASW22 | 300.92 km | 02:09:22 | 139.6 km/h | 0 | 634 |
| 3 | | Zsolt Siket | ZSO | HA-ZSO | ASW22 | 300.92 km | 02:10:28 | 138.4 km/h | 0 | 626 |
| 4 | | Jon Holland | 123 | G-RUSH | Nimbus4 | 300.92 km | 02:10:39 | 138.2 km/h | 0 | 625 |
| 5 | | Petr Sadik | 63 | OK-6538 | Nimbus4 | 300.92 km | 02:11:40 | 137.1 km/h | 0 | 617 |
| 6 | | Martin Dvorak | CCC | OK-9252 | Nimbus4 | 300.92 km | 02:13:29 | 135.3 km/h | 0 | 604 |
| 7 | | Hans Nyc | JN | OK-6200 | Nimbus4 | 300.92 km | 02:13:44 | 135 km/h | 0 | 603 |
| 7 | | Josef Spirik | S50 | SPIRA | Nimbus4 | 300.92 km | 02:13:46 | 135 km/h | 0 | 603 |
| 9 | | Martin Kozar | MK1 | OM-2002 | Nimbus4 | 300.92 km | 02:14:13 | 134.5 km/h | 0 | 599 |
| 10 | | Tomas Brotanek | TB | OK-0516 | Nimbus4 | 300.92 km | 02:14:24 | 134.3 km/h | 0 | 598 |
| 11 | | Martin Baran | MOV | OK-0371 | Nimbus4 | 300.92 km | 02:14:34 | 134.2 km/h | 0 | 597 |
| 12 | | Martin Semrad | MSE | OK-DAR | Nimbus4 | 300.92 km | 02:15:35 | 133.1 km/h | 0 | 590 |
| 13 | | Milos Koch | MK | OK-1823 | ASW22 | 300.92 km | 02:17:27 | 131.4 km/h | 0 | 578 |
| 14 | | Lubos Faitz | LFM | OK-4812 | Nimbus4 | 300.92 km | 02:20:07 | 128.9 km/h | 0 | 561 |
| 15 | | Jiri Holub | JHO | OK-4408 | Nimbus4 | 300.92 km | 02:20:43 | 128.3 km/h | 0 | 557 |
| 16 | | Rudolf Kalousek | R1K | OK-7777 | Nimbus4 | 300.92 km | 02:22:03 | 127.1 km/h | 0 | 548 |
| 17 | | Jiri Adam | ADX | OK-0024 | Nimbus4 | 300.92 km | 02:22:27 | 126.7 km/h | 0 | 546 |
| 18 | | Mathias Muench | MMU | D-2197 | ASW22 | 300.92 km | 02:23:36 | 125.7 km/h | 0 | 539 |
| 19 | | Libor Danhel | LD | OK-1009 | ASW22 | 300.92 km | 02:25:14 | 124.3 km/h | 0 | 529 |
| 20 | | Wlodzimierz Kowalski | DB9 | SP-2964 | ASW22 | 300.92 km | 02:25:29 | 124.1 km/h | 0 | 528 |
| 21 | | Pavel Kostkan | PK | OK-0906 | Nimbus4 | 300.92 km | 02:35:15 | 116.3 km/h | 0 | 474 |
| 22 | | Pavel Snajdr | ST | LT5 | ASW22 | 300.92 km | 04:16:28 | 70.4 km/h | 0 | 324 |
| 23 | | Jiri Ehrenberger | PJE | OK-6417 | ASW22 | 224.54 km | | | 0 | 242 |
| 24 | | Eman Sadik | EMA | OK-1940 | Nimbus4 | 203.93 km | | | 0 | 220 |
| 25 | | Marcin Domagala | MDC | SP-2125 | Nimbus4 | 105.81 km | | | 0 | 114 |
| 26 | | Winfried Deppe | WD | D-2709 | ASW22 | 54.9 km | | | 0 | 0 |
| 27 | | Oldrich Slavicek | O8 | OK-OLDS | Nimbus4 | 23.5 km | | | 0 | 0 |
| 28 | | Rene Queiroz | RQ | PT-ZRQ | Nimbus4 | 5.4 km | | | 0 | 0 |

Download IGC files (all pilots in one ZIP file) | Detailed results (mCR, mIAS, Detour%...)
Briefing › Day 6 › 14.03.2015 › 20:00 CET › Saturday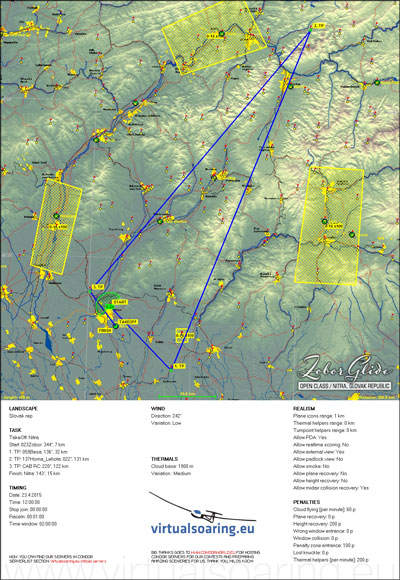 Server:ZoborGlide 2015
Password:
Date:14.03.2015
Time:20:00 CET (19:00 UTC)
Join time:30 min.
---
Landscape:Slovak Rep [1.0]
Plane class:Open Class
Task type:Racing Task
Race-in time:1 min.
Time window:120 min.
Start time:12:00:00
Condor date:23.04.2015
Start altitude:max. 2400 m QNH
---
TakeOff:Nitra
Start:023Zobor
1. TP:059Besa
2. TP:137Horna_Lehota
3. TP:CAB RC
Finish:Nitra
Distance:301 km
---
Cloudflying not allowed! Circeling in the direction of climb is determined by the first glider in thermal. If you have doubts about the circeling direction, ask in the chat. Attention: some penalty zones (CTR/TMA) are active, please watch your PDA all the time! Please FLY SAFE, good luck to all pilots.
---

Download Flightplan (FPL file)
---
comments powered by

Disqus